Crop Watch: East (Bedfordshire/Hertfordshire) – Farmers Weekly – Ben Pledger
Posted on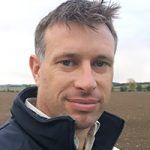 The oilseed rape crops I have in the area look well, in general. Most were drilled into moisture or had rain straight after drilling.
A move back to establishing the crop with a conventional drill, rather than with a subsoiler or one-pass cultivator, has led to more even seed placement, and hence, even emergence. This has allowed the crop to fare better against the flea beetle pressures we have seen in the past few years.
Hot weather over the August bank holiday brought them out in force, and a well-timed insecticide did enough to knock back the pressure to allow the plants to grow quickly to two true leaves and beyond.
The best crops of oilseed rape I have seen have been grown on land that hasn't had rapeseed for more than six years. These haven't needed any insecticide either.
Clethodim has now been applied to control blackgrass, and the search for aphids begins with regards to turnip yellows virus control.
Dry seed-beds
Very dry cereal seed-beds throughout a good proportion of September did not give much of an opportunity for blackgrass and volunteers to chit. However, the recent rains have promoted flushes that are now emerging.
From listening to reports from across the country, it seems this area got off lightly with the amount of rain we have had. Land is in good condition after recent showers, having taken the rain well.
Weather permitting, in the next 10 days we will see seed-beds sprayed off with glyphosate before the drill enters the field. The delay in drilling to mid-October is more pertinent this year – not only for blackgrass control, but also considering the loss of clothianidin.
Chemical control for aphid vectors of barley yellow dwarf virus will solely be down to insecticides applied through the sprayer.
In field monitoring, forecasting and the cumulative daytime temperatures to 170 day-degrees will all play a part in deciding on the correct time to apply these insecticides.
I am concerned, though, that the increased reliance on pyrethroids in this area will drive resistance.