Crop Watch - Farmers Weekly - Ben Pledger
Posted on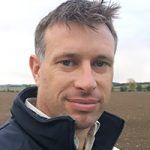 The rain in the run-up to Cereals was welcomed by most in this area. We didn't have as much as Lincolnshire, but the heavy rain did have me questioning whether reducing the second plant growth regulator application rates on barleys to reduce crop stress at the time of application was the right thing to have done.
Fortunately, as I write, there is virtually no lodging to be seen, apart from the odd overlap.
This story may change however with the thunderstorms which are forecast as this piece goes to press.
This lack of lodging can be put down to many factors, but two which have influenced this are: going robust early with the first PGR, coupled with the fact that with it having been so dry for so long, some nitrogen fertiliser hadn't yet found its way into the plant.
The warm, dry spell in early February gave a good opportunity to get out and control grass weeds with iodosulfuron-methyl + mesosulfuron-methyl before they were too big to shake the chemistry off.
Tank mixes
On the whole, control was good, however the relatively early cracking of the ground this year allowed another flush of grass weeds to come in places from relatively deep in the soil profile.
Alongside these grass weeds came broad-leaved weeds as well, which had no contact with any residual chemistry laid down earlier on.
In places, this led to tank-mixing broad leaved herbicides with the flag leaf fungicide – something which is usually not necessary.
The challenges to agriculture provided by the weather always provide good experience to adapt and take forward.
Looking forward to next cropping year, I will be urging people more than usual to conserve seed bed moisture and bring forward their first spring nitrogen application.
That should guarantee a wet spring next year! May I take this opportunity to wish you a prosperous harvest.