Crop Watch - East - Farmers Weekly - Ben Pledger
Posted on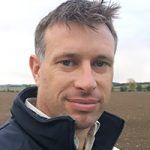 The continuing dry spell is now starting to visually show up the sharper soil types within fields.
Any moisture in autumn-drilled cereal fields from the rain three weeks ago has all but gone before the token shower we have just had. Winter cereal roots pretty much just shed dust when they are pulled up.
The sound of thunder outside as I write this is bringing slight comfort that probably some isolated areas will be getting a decent amount of rain.
However, even a good soak in places now will not restore the full yield potential of some crops, with tillers already having been dropped to divert precious moisture and available nutrients to keep the main stem and more forward tillers going.
Weed control in most crops this spring has been frustrating, early applications of mesosulfuron + iodosulfuron in winter wheat produced good levels of control.
Grassweed headache
However, with the ground being so dry, earlier than usual cracking of the ground has allowed for new flushes of grassweeds to appear in crops struggling to produce a decent canopy to allow them to smother these new competitors.
Broad-leaved weeds in some spring crops haven't appeared with the populations usually expected, and with crop growth stages now starting to determine the end of herbicide applications, future showers of rain could produce more flushes of weeds without the ability to control them.
In sugar beet, most crops are suffering to some extent from uneven crop emergence, due to seed-bed quality and again lack of soil moisture. In-field crop development is ranging from cotyledon stage through to eight true leaves.
Broad-leaved herbicide applications are working well, even on the larger weeds, which have really taken off in certain areas.
Alongside these sprays, applications of thiacloprid are being sequenced where thresholds for myzus persicae are being met. Aphid populations will then be monitored again to identify areas that will need an application of flonicamid should numbers build to threshold levels again.