Crop Watch with Ben Pledger
Posted on
- Farmers Weekly
The spring of 2011 taught me a valuable and unforgettable lesson: respect and conserve soil moisture levels.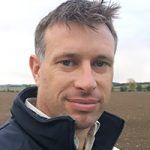 At the time I was managing a chalky, light-land farm, one-third of the sugar beet drilled that year didn't germinate, the peas yielded less than 2t/ha and the spring barley was patchy to say the least.
The January-drilled spring barleys have emerged well.
On lighter land, most of the crops drilled in the past 10 days are in one of two camps.
First, land that was worked in the autumn to produce a rough seed-bed, and also crops that have been direct drilled are in nice, moist seed-beds.
However, land that for whatever reason has been worked within the past month, especially where a catch or cover crop has been used, is dry. Unless there is significant rainfall in the near future, establishment will be patchy.

Yellow rust
The dry weather has also seen yellow rust manifesting itself in a number of winter wheat crops in the past 10 days.
Worryingly, varieties with resistance ratings of 8s and 9s are showing signs of the disease as well.
Tebuconazole, or fenpropimorph where mildew is present, has been added to T0 fungicide mixes.
Where T0 applications have either not been planned, or have been applied already, crops will be monitored for signs of the disease prior -T1 timing and treated accordingly.
On the blackgrass front, spring applications of iodosulfuron + mesosulfuron have, on the whole, been successful, with good levels of control in most places.
The general move toward later drilling has reduced blackgrass populations within crops, but has also presented much smaller weeds to control in the spring.
With the loss of clothianidin seed treatments, this move to later drilling will inevitably be here to stay to also reduce the risk of barley yellow dwarf virus infection in autumn-drilled cereals.